This was written for the 'Palace Echo' fanzine after the play-off final win in 2004.  The person most disappointed with the result was the one who did the most to have it shown in Australia.
Originally the play-off final wasn't going to be shown in Australia. This was going to deprive a number of Palace fans the chance to see the game. It was also going to deprive an even larger number of West Ham fans the same opportunity. The satellite channel which held the rights claimed there wasn't enough interest and that it would take something major to make them change their mind.
His name is Dave Lewis.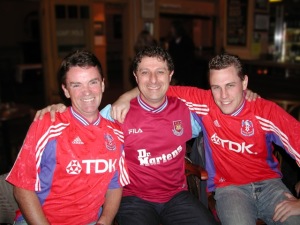 Dave is a West Ham fan. He's also Australian born and bred. This former rugby player switched codes to the round ball. "I started to watch soccer on TV in 1973 and West Ham had that fantastic side. They won big or they lost big and I identified with that. They were a very entertaining side to watch." When Setanta, the sports channel which broadcasts predominately Gaelic sports in Irish pubs to the expat community, elected not to exercise their rights to show the game Dave faced a decision. He could have flown to England as he has so many times in the past but he tried a second option. He offered to underwrite the cost of Setanta showing the game. The cost remains private but regardless of whatever currency you use it was a significant amount.
Setanta, surprised at such a proposal, thought about it and then backed Dave all the way. "Setanta deserve praise. They're a private company, they could have said 'no', they could have said 'no matter what you pay we won't do it'. They've really helped. They've done a lot of work". A couple of messages on the West Ham chat site asking for expressions of interest brought forth a tsunami. There were literally thousands of West Ham fans in Australia who wanted to see the game. There were a few hundred Palace fans as well and we were more than welcomed as the news spread. With the reach of the internet and other more traditional media the clamour for tickets grew. When they finally went on sale most venues were swamped by the demand. In Sydney the 150 tickets at Scruffy Murphy's sold out in under 24 hours while the Aussie Rules club – capacity 400 – sold 80% in two days. The latter was only available for booking via a online sales at a server set up in very quick time by Dave's company, the DLA Group, and manned by his staff who performed not only their own jobs but also the mad scheme dreamed up by their boss.
Elsewhere the trade was just as brisk. One venue in Melbourne rapidly became two venues in Melbourne. Brisbane, Perth, Adelaide, and Cairns cascaded into line as well. Another venue sprang up in Sydney to meet the demand. Then came a fourth – The Metro Theatre. "But that doesn't have the specialised equipment capable of showing the Setanta broadcast", was the issue I raised with Dave a few hours before the game. "As of this morning it does", he grinned. The biggest audience Setanta had ever got for one of its broadcasts in Australia was around 1,300 for a football game involving Celtic. The second biggest was for one involving Manchester United. Crystal Palace v West Ham United attracted an audience of 3,000 people each paying $25 (around £10) a ticket.
This all took place within seven days. Dave seems a bit bemused at how the enterprise expanded as originally "it was all about a guy wanting to see a game of football".
The scramble for venues proved problematic in Sydney. "It's really important to dispel this notion of English soccer hooligans. Some of the clubs where we wanted to put this on turned us away with 'Oh, soccer hooligans, there'll be trouble'". But the camaraderie that Dave was so keen to show between fans rose above that and there were no reports of trouble. All over the country media outlets lined up to interview this mad football fan who was going to such lengths to show a game between two teams who weren't even Premier League. Sky and Channel 7 (national TV) interviewed him and "I've been on Mt Gambier radio".
The interest wasn't just limited to Australia. "I was on Radio New Zealand this morning – and the game isn't even on in New Zealand!". As well as an appearance on Ceefax the BBC match commentator was also due to call him from Cardiff thirty minutes before kick-off. A West Ham businessman in the US offered Dave money to support his attempt to show the game (the offer being graciously declined). An email from Britain even contained a marriage proposal "but I've already got an English wife and I'm very happy with her" – while a suggestion to make a movie from it would mean an obvious casting choice of Russell Crowe (however, Dave did not swear, get drunk or beat up anyone so that actor may have to really work at getting into character). If it were an American movie it would end with a stirring finale and Dave being escorted triumphantly aloft the shoulders of his fellow supporters. But it was a game between two very English teams and could only have that most English of results for him.
"Utterly *utterly* devastated", was his email after the match, "As said, CP were by far the better team". Grace in defeat and an ability to move mountains in the space of a week. Dave Lewis is a rare man and there will always be a part in grateful Australian Palace fans hearts for him.