Sometimes you may want a copy of all of the data you have added into Facebook.  This will include all the posts you have made as well as the photos and videos you uploaded.  Below is the easy way of getting a copy of that data.
Step 1:
Open your Facebook account in a desktop web browser.  Click on the down arrow in the top-right and select the 'Settings' menu item.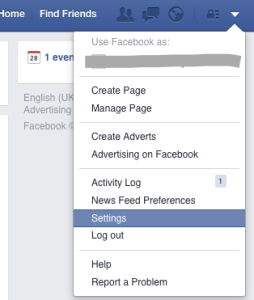 Step 2:
This will take you to the general account settings.  At the bottom of the panel listing your basic details will be a links that states 'Download a copy of your Facebook data'.  Click on it.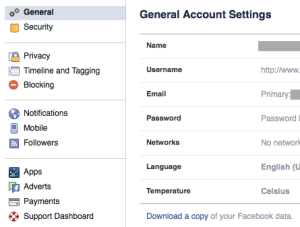 Step 3:
This will display the download panel.  Click  on the 'Start My Archive' button.
Step 4:
You'll be asked to re-enter your Facebook password.  Do so then click on the 'Submit' button.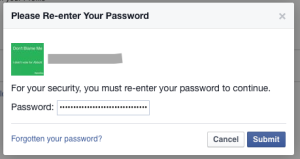 Step 5:
A notification will appear.  How long it will take to generate your data will depend on how prolific a poster you have been.  If it takes longer than five minutes then you probably need to get out more.  Click on the 'Start My Archive' button.

Step 6:
You'll get another notification about the email address to which the link from which you can download your data has been sent.

Step 7:
A short while later (ninety seconds in my case) an email will turn up.  Click on the link at the bottom of it and download a ZIP file containing all of your data.